Implementing a Human Resources Strategy
Tokio Marine Group believes the power of its people is the driving force for realizing its vision of becoming a "Good Company". For the insurance business, which is said to be a "people's business", the people involved and the trust created by those people are the source of our competitive advantage. We will promote diversity on a global basis to facilitate the active participation of some 40,000 employees worldwide and strengthen our competitive advantage.
We believe human resource development is vital in Tokio Marine Group continuing to produce talented people who support aligned Group management. Since its establishment in 1879, the Group has cultivated the "Tokio Marine Group Spirit" by overcoming many obstacles and by continuing to take on challenges. This spirit is embodied by the following five concepts: "social contribution", "customer orientation", "taking on challenges", "diverse global perspective", and "openness and dynamism". These concepts have been handed down from generation to generation and continue to serve as the foundation of our human resources development. In addition, each Group company has established a personnel system and skill development program tailored to the individual characteristics of each business.
In order to improve the quality of the products and services we provide to customers worldwide, it is important to leverage people with diverse values, motivations and capabilities, regardless of gender, age, nationality, or disability, and encourage everyone to maximize their potential. We advocate diversity, support advancement of women in the workplace and the employment of persons with disabilities.
Developing Global Human Resources
Our Global Human Resources Strategy revolves around three key aspects that facilitate the development and management of global talents in the Group's evolution into a global insurance group.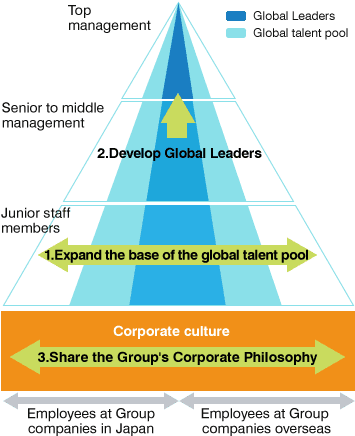 1.

Expand the base of the global talent pool

2.

Develop Global Leaders

3.

Share the Group's Corporate Philosophy
In line with Tokio Marine Group's strategy to expand the base of the global talent pool, third-year employees at Tokio Marine & Nichido are sent overseas to subsidiaries and Group companies for a short-term training program. This initiative provides our young employees an opportunity to be exposed to different cultures and encourages them to foster a global mindset in the early part of their career.
We always ensure that our employees are equipped with the right competencies as they progress to take on leadership roles. Under the Regional Collaboration Program (RCP), the participants are tasked to build and present business cases to overseas Group companies, in cross-functional teams. They are expected to collaborate with local employees, utilize their functional expertise and finally, promote sharing of best business practices beyond geographical boundaries.
To realize the vision of becoming a "Good Company", it is essential for all employees to share the corporate vision. This vision is strengthened through our Middle Global Leadership Development Program (MGL) where leaders from across the Group immerse themselves in our Group culture. The participants learn about the social importance of insurance in Japan as they visit the city of Ofunato in Tohoku, which was badly affected by the 2011 Great East Japan Earthquake and Tsunami. The experience is complete with a dialogue with our Senior Executive, and a group project session as they establish a common understanding of our corporate vision.
Tokio Marine Group - Our People
Our people are the most important asset of our Group and a key driver of our Good Company vision.
We aim to attract and retain the best talent in every aspect of our business to ensure we deliver safety and security to our customers and their communities.
Our people bring passion and a challenging spirit to their endeavors and we provide them opportunities for career development and ongoing personal growth.
Our people embody diversity and we value inclusion as a truly global company. We work hard to create a business environment where we can achieve our full potential as we continue our endless journey to be a Good Company.