Tokio Marine aims To Be a Good Company trusted by all people and society, by continuing to contribute to society through our business
Tokio Marine Group aims To Be a Good Company that is trusted by all people and society by supporting customers and society in their times of need, which is our basic concept "Good Company" of our long-term vision.
Tokio Marine Group has provided "safety and security" to society and contributed to its development by making the most of its abundant knowledge and experience accumulated over the years in the insurance industry. Our self-motivated employees act with integrity and compassion, and as this spreads throughout organizations and the Group, we believe that it will create a virtuous cycle of developing innovative products and services along with contributing to local communities and society. Moreover, this cycle will lead to the sustainable growth of the Group. These efforts will serve as a bridge to our children and to future generations as we seek to transform risks into opportunities and create value for a safe, secure and sustainable future.
In the future as well, we will work to counter various social issues and continuously raise the Group's corporate value while contributing to a safe, secure and sustainable future. By doing so, we aim to become To Be a Good Company that is trusted by all people and society.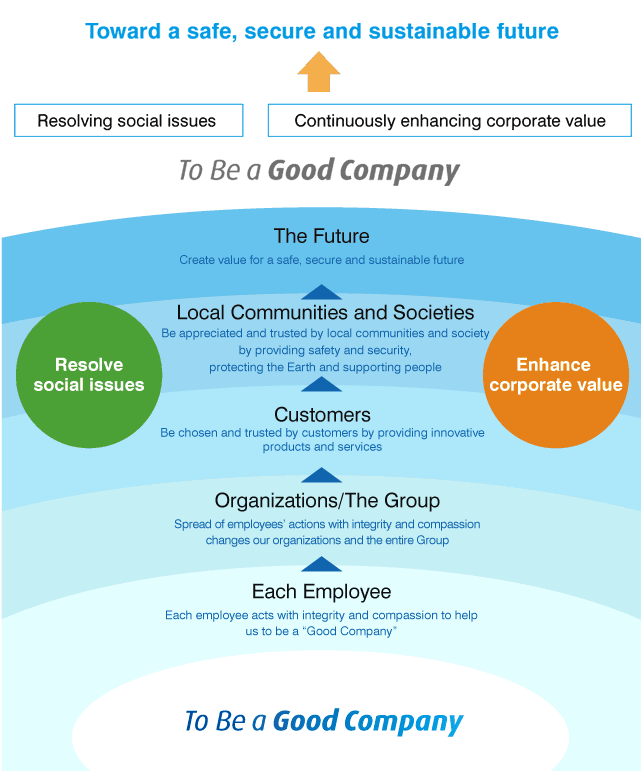 Respect for International Codes of Conduct and Human Rights
Tokio Marine Group supports and respects the Universal Declaration of Human Rights, OECD Guidelines for Multinational Enterprises, ILO Core Labour Standards, UN Guiding Principles on Business and Human Rights, as well as ISO 26000. The ideas and contents of the ten principles concerning human rights, labour, the environment and anti-corruption advocated by the United Nations Global Compact (UNGC) coincide with Tokio Marine Group's own approach. Therefore, Tokio Marine Holdings has been participating in the UNGC since 2005.
Initiatives for resolving social issues in line with core themes
Tokio Marine Group has set the three core Themes of "Providing Safety and Security," "Protecting the Earth" and "Supporting People" under its Mid-Term Business Plan—"To Be a Good Company 2020" (FY2018 – FY2020). Initiatives to address social issues are being promoted with the participation of all employees based on these core themes.
Accordingly, we have been implementing Sustainability initiatives across a wide range extending from the provision of products and services to corporate citizenship activities. We will also communicate our principal Sustainability initiatives to society through this website while also promoting easily understandable measures to permeate these initiatives within the Group.
Core Theme 1

Providing Safety and Security
The world is now facing various social issues, inflicted by frequent large-scale natural disasters, demographic shifts, income disparities and poverty. In Japan as well, issues are becoming prevalent also in relation with technological innovation as well as community resilience (disaster prevention and mitigation) and the country's declining birth rate and aging population. These issues may induce drastic changes in risks surrounding the insurance business.
To protect customers and society from these risks, Tokio Marine Group has selected "Providing Safety and Security" as one of its three Sustainability core themes and is making efforts toward a safe, secure and sustainable future throughout its entire business operations.
Value Creation

Providing safety and security to customers, local communities and society worldwide through the insurance business
Core Theme 2

Protecting the Earth

The global issues of "climate change and natural disasters" and "depletion of biodiversity and wetlands" pose serious risks for the children not only of today but also of the future and at the same time have a significant impact on the business of Tokio Marine Group.
Having set "Protecting the Earth" as a core Sustainability theme, Tokio Marine Group works to provide products and services that are designed to mitigate or adapt to climate change and protect biodiversity, reduce environmental footprint in business activities, become carbon neutral, conduct environmental protection activities in Japan and overseas, and promote environmental awareness raising and education. Our aim is to contribute to preservation of the global environment and the creation of environmental value.
Value Creation

Contributing to a Sustainable Global Environment
Core Theme 3

Supporting People

In Japan, the importance of responding to the nursing and health needs of the elderly is increasing due to the low birth rate and aging society. There is also growing demand to create societies in which people in underprivileged circumstances and those with disabilities can live with peace of mind in the community as economies and societies become more sophisticated and globalization progresses. In addition, there are calls for the acceptance, promotion and utilization of diversity in such areas as gender, age and nationality. On a global scale, the reality is that there is growing income disparity, increasing unemployment among youth, poverty and unequal opportunities for education based on gender.
Tokio Marine Group has set "Supporting People" as a core Sustainability theme in order to take up the challenge of resolving these issues. To this end, we will promote local community and social contribution activities supporting people through the growth of young people and support the elderly, persons with disabilities and athletes as well as contribute to the realization of a symbiotic society in which everyone can live with peace of mind by promoting diversity and inclusion.
Value Creation

Supporting Local Communities and Society and Creating an Inclusive Society
Governance ~A Resilient, Highly Sound and Transparent Management Structure~
To earn the trust of all people and society and achieve sustainable growth, Tokio Marine Group must raise the quality of initiatives for "business strategies," "governance" and "social responsibility" and build a structure for resilient, highly sound and transparent management as a global insurance group.
Accordingly, as initiatives serving as the basis of such a management structure, Tokio Marine Group is making efforts for compliance, fraud prevention, information security, privacy, respect for human rights, Sustainability in the value chain and sustainable investment.
Through these initiatives, Tokio Marine Group will meet the expectations of stakeholders, beginning with continuously enhancing shareholder value.
Value Creation

Continuously Enhancing Shareholder Value