It is our responsibility to sustainably pass on the environment to future generations by implementing climate change countermeasures and preserving biodiversity while supporting these generations in taking on challenges through children's education.
Looking at the future of its stakeholders, Tokio Marine Group has positioned "future generations" as one of our key stakeholders.
In order to hand down a sustainable environment and society to future generations, we will promote measures to take climate action, work to protect the abundance of nature, and provide education to children through business activities and social contributions.
In fiscal 2022, we formed a global study team that spans the Group, discussed initiatives to contribute to future generations and identified three themes to focus our efforts on and five priority initiatives.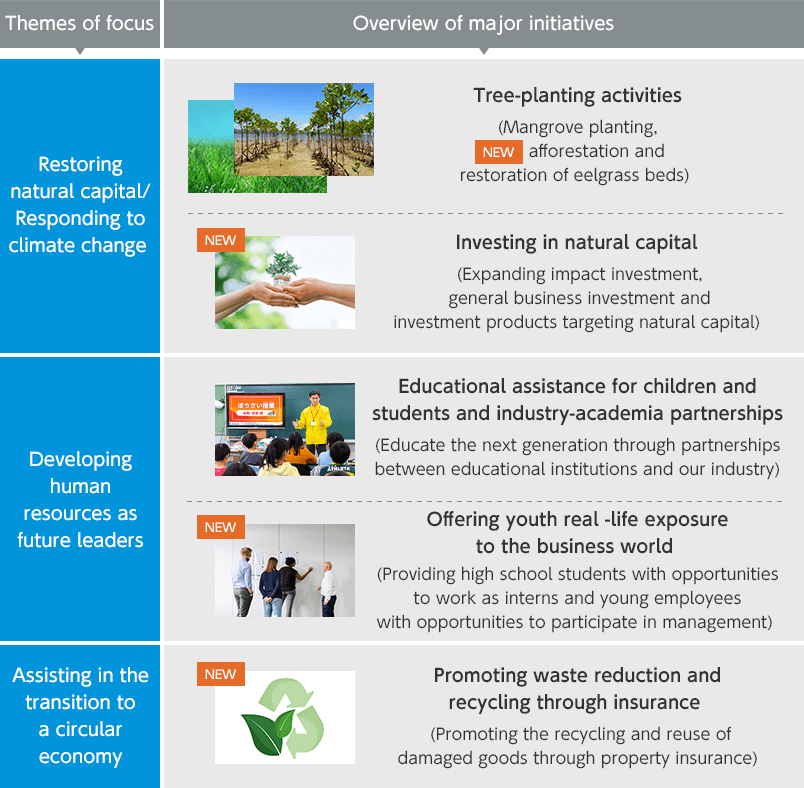 Initiatives to date
The following are part of the initiatives that have been taken globally by Tokio Marine Group for future generations.
(Tokio Marine & Nichido) Activities to Protect the Sea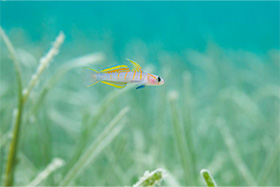 Since October 2022, Tokio Marine & Nichido has been engaged in full-scale activities to protect the sea. These activities include the protection and restoration of eelgrass beds, initiatives to reduce plastic waste and the protection of the marine environment through its core business. The protection and restoration of eelgrass beds has attracted attention in recent years as a means of solving various issues surrounding the marine environment (rising seawater temperatures, ocean acidification, the plastic waste problem, the decrease in oxygen levels and the reduction of marine resources). It is expected to generate positive effects such as the purification of water, the protection of biodiversity and the absorption and fixation of CO2 from the atmosphere.
(PURE) Supporting Students through Collaboration with a University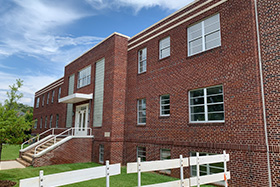 The U.S.-based PURE Group of insurance companies appropriates 1% of its investment portfolio to impact investment as an initiative to invest in future generations. Recently, PURE formed a partnership with a university whose mission is to provide high-quality education to students with financial difficulties. The plan is to use the invested money, a total of USD 2.3 million, to renovate an abandoned hospital building to establish a facility for new graduate school programs, a gun violence victim memorial and other facilities. This initiative will bring tuition and tourist income to the university. At the same time, it will also lead to the provision of important services commemorating the university's contribution to African-Americans throughout the history of South Carolina.
(Hollard) Job Creation through the Fire Hydrant Initiative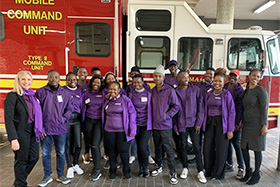 The South Africa-based Hollard has launched the Tshwane-Hollard Fire Hydrants Initiative in a public-private partnership with the city government of Tshwane and the National Disaster Management Centre (NDMC). Under this initiative, 15 unemployed young people received training for the inspection of the approximately 3,500 fire hydrants in the entire city of Tshwane. This initiative not only ensures that the fire hydrants in the city work normally but also contributes to the creation of jobs and opportunities to develop skills. According to Statistics South Africa, fires are the fourth most frequent cause of accidental death in the country and are estimated to cause insurance losses of about 3 billion rand (roughly 24.6 billion yen) every year (excluding deaths of the uninsured and unreported losses).
Promoting Climate Change Countermeasures
Carbon Neutrality Achieved by Purchasing Green Power and Planting Mangroves
Tokio Marine Group has been working to reduce CO2 emissions generated by its business activities and reduced emissions by 7% in fiscal 2021 from the fiscal 2020 level, mainly by purchasing green power at major bases in each country. In addition, we have continued to promote mangrove planting, which has a CO2 fixation effect, in the Asia-Pacific region, and achieved carbon neutrality, in which the amount of CO2 absorbed or fixed exceeds its emissions, for nine consecutive years since fiscal 2013. We will continue to push forward with initiatives to reduce our environmental footprint and achieve carbon neutrality to contribute to the global transition to a decarbonized society toward 2050.

Educational and/or awareness-raising activities for Children
Tokio Marine Group provides educational and/or awareness-raising opportunities for children including a program for resolving environmental and social issues in order to hand over a better environment and society to future generations. In Japan, we support underprivileged students by providing opportunities for learning and advancing to higher education by engaging in initiatives through foundations such as providing them with scholarships and administering assistance programs for children orphaned by traffic accidents.
In addition, Tokio Marine Group has been providing an environmental awareness program "Green Lessons", a disaster prevention awareness program "Disaster Prevention Lessons", and a career education program "Group Work on Managing Risks and Opportunities" to children, and more than 130,000 students (accumulated total) have participated in these programs as of March 31, 2021. Overseas, Tokio Marine & Nichido Fire Insurance Company (China) Limited and Tokio Marine Indonesia has been carrying out a disaster awareness-raising program while Hollard Group in South Africa has been providing the StreetWise Finance financial literacy education program.
These programs are carried out mainly by employee volunteers.
Tokio Marine Group promotes all employee participative initiatives to resolve social issues by setting the target of a 100% participation rate (cumulative total) in social contribution activities. In fiscal 2021, Group companies in and outside Japan achieved a 100% participation rate.