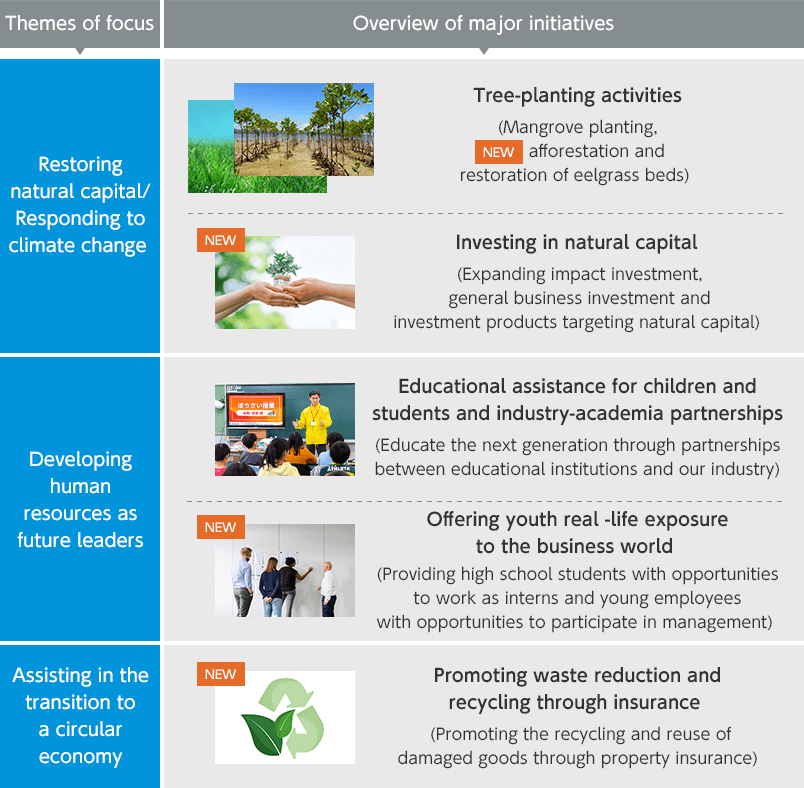 Looking a step ahead into the future for us, Tokio Marine Group has clearly designated "future generations" as one of its key stakeholders.
It is our responsibility to hand over sustainable environment to "future generations" by implementing climate change countermeasures and protecting the natural environment while supporting "future generations" in taking on challenges through educational and/or awareness-raising activities for children.
Together with our stakeholders, we are committed to creating a virtuous cycle of resolving social issues and corporate growth through all our business activities, and to realizing Sustainability Transformation (SX), with the participation of all employees.
Efforts to date
Social value
Business value
Combat climate change
Mangrove
planting
Disaster
Prevention
Lessons
("Earthquake
and Tsunami"
and "Water
and Landslide
Disasters"
editions)
Restoration
projects of the
coastal forests
of the Tohoku
region
Insurance for
renewable
energy power
generation
projects
Improve disaster resilience
Industryacademia
collaborative
research on
disaster risks
Support for the formulation of BCPs
Support people's healthy
and enriching lives
Support for
the JOC Junior
Olympic Cup
Swimming
Tournament
Support for
acquisition
of the Japan
Healthcare
Master
Certification
N Program
(supporting
young
physicians to
gain clinical
experience)
Services to
support health
and productivity
management
Promote and support
diversity and inclusion
Support for
parasports
Fostering
supporters of
persons with
dementia
Job assistance
for single
mothers
Microinsurance
Facilitate and foster
innovation through
digitalization
Universal
consulting
services using
an eye tracking
device
Disaster
Experience AR
app
Predictionbased
multihazard
solutions
using digital
twin technology
Cyber Risk
Insurance
Protect the natural
environment
Collaborative
afforestation
efforts with
Kochi Prefecture
Green Lessons
Planet GENKI
Program
Green Gift
Project
Provide education to
children
Financial assistance
for children orphaned
through traffic
accidents and
scholarships for
children whose parents
died from illness
Scholarships for
students at Japanese
universities and
exchange students
from ASEAN nations
and financial assistance
for research
Literacy education
and education for
girls
Group Work on
Managing Risks and
Opportunities
Promoting Climate Change Countermeasures
Contributing to a Decarbonized Society by Reducing CO2 Emissions, Planting Mangroves and Introducing Renewable Energies
Tokio Marine Group has been working to reduce CO2 emissions generated by its business operations and reduced emissions by 19% in fiscal 2020 from the fiscal 2019 level. In addition, we have continued to promote mangrove planting (CO2 fixation) in the Asia Pacific region and the introduction of renewable energies, achieving carbon neutral status for eight consecutive years since fiscal 2013.

Educational and/or awareness-raising activities for Children
Tokio Marine Group provides educational and/or awareness-raising opportunities for children including a program for resolving environmental and social issues in order to hand over a better environment and society to future generations. In Japan, we support underprivileged students by providing opportunities for learning and advancing to higher education by engaging in initiatives through foundations such as providing them with scholarships and administering assistance programs for children orphaned by traffic accidents.
In addition, Tokio Marine Group has been providing an environmental awareness program "Green Lessons", a disaster prevention awareness program "Disaster Prevention Lessons", and a career education program "Group Work on Managing Risks and Opportunities" to children, and more than 100,000 students (accumulated total) have participated in these programs as of March 31, 2021. Overseas, Tokio Marine & Nichido Fire Insurance Company (China) Limited has been carrying out a disaster awareness-raising program while Hollard Group in South Africa has been providing the StreetWise Finance financial literacy education program.
These programs are carried out mainly by employee volunteers.
Tokio Marine Group promotes all employee participative initiatives to resolve social issues by setting the target of a 100% participation rate (cumulative total) in social contribution activities.