The Paris Agreement, adopted at the 21st session of the Conference of the Parties to the UNFCCC (COP21) held in December 2015, clearly sets out the world's common long-term goal of keeping a global temperature rise well below 2 degrees Celsius above pre-industrial levels. A new international framework to promote measures against climate change, as well as other actions specified for achieving this goal, are expected to affect future social and economic activities and facilitate the transition to a low-carbon society.
Toward the 2 degrees Celsius goal of the Paris Agreement, Tokio Marine Group will voluntarily implement measures against climate change and focus on encouraging the transition to a low-carbon society through constructive dialogue and collaboration with a number of stakeholders, from international organizations, the Japanese government and business and academic communities to non-profit organizations (NPOs) and non-governmental organizations (NGOs). The Group believes that it is also important to promote climate change measures as one pillar of our efforts to build a sustainable society, specifically when working to resolve various social issues and achieve the United Nations' Sustainable Development Goals (SDGs).
Climate-Related Financial Disclosure Based on the Recommendations of the TCFD
The Task Force on Climate-related Financial Disclosures (TCFD) had been entrusted by the Financial Stability Board (FSB) to formulate voluntary recommendations for consistent, comparable, reliable, clear and efficient climate-related disclosures by companies in the financial sector and released its final recommendations in June 2017.
Climate change and natural disasters represent a global issue and have a significant impact on Tokio Marine Group as we engage in the insurance and financial services businesses. As such, Tokio Marine Holdings is supporting the activities of the TCFD and is working toward the formulation of policy recommendations to encourage disclosure that will help investment decisions by engaging in discussions and exchanging opinions with relevant government and private-sector parties in Japan and overseas. In July 2018, Tokio Marine & Nichido became a founding member of the insurer pilot group, launched by the United Nations Environment Finance Initiative (UNEP FI) under the Principles for Sustainable Insurance (PSI) framework to examine and develop methodologies and analytical tools for the insurance industry to make climate-related disclosures based on the TCFD's recommendations. In Japan, the Chairman of the Board of Tokio Marine Holdings worked as one of the founders and contributed to the establishment of the TCFD Consortium in May 2019. After the establishment, he has been a member of the Planning Committee to deliberate on the consortium's future course of action. He also participates in discussion on effective ways for companies to disclose climate-related information and how to link the disclosed information to appropriate investment decision-making of financial and other organizations.
Tokio Marine Holdings made disclosure based on the TCFD's recommendations for the first time in its Integrated Annual Report 2017 issued two years ago.
The table below is an overview of the four fields of disclosure based on the TCFD's recommendations. In this report, we provide detailed information in each field.
Disclosure Based on the Recommendations of the TCFD
Climate-related governance
Climate-related strategies
Risk management
Metrics and targets

a)

Oversight by the Board of Directors

b)

Management's role

a)

Climate-related risks and opportunities

b)

Impact of climate-related risks and opportunities

c)

Possible impact of different climate-related scenarios

a)

Process for identifying and assessing climate-related risks

b)

Process for managing climate-related risks

c)

Integration of these processes into overall risk management

a)

Metrics used to assess climate-related risks and opportunities

b)

Scopes 1, 2 and 3 greenhouse gas (GHG) emissions

c)

Targets used to manage climate-related risks and opportunities
Source: Created by Tokio Marine Holdings based on the Recommendations of the Task Force on Climate-related Financial Disclosures, Figure 4 (p. 14), TCFD, June 2017
Climate-related Disclosures Based on the Standards of the Task Force on Climate-related Financial Disclosures, Integrated Annual Report 2018 (1.6MB)PDF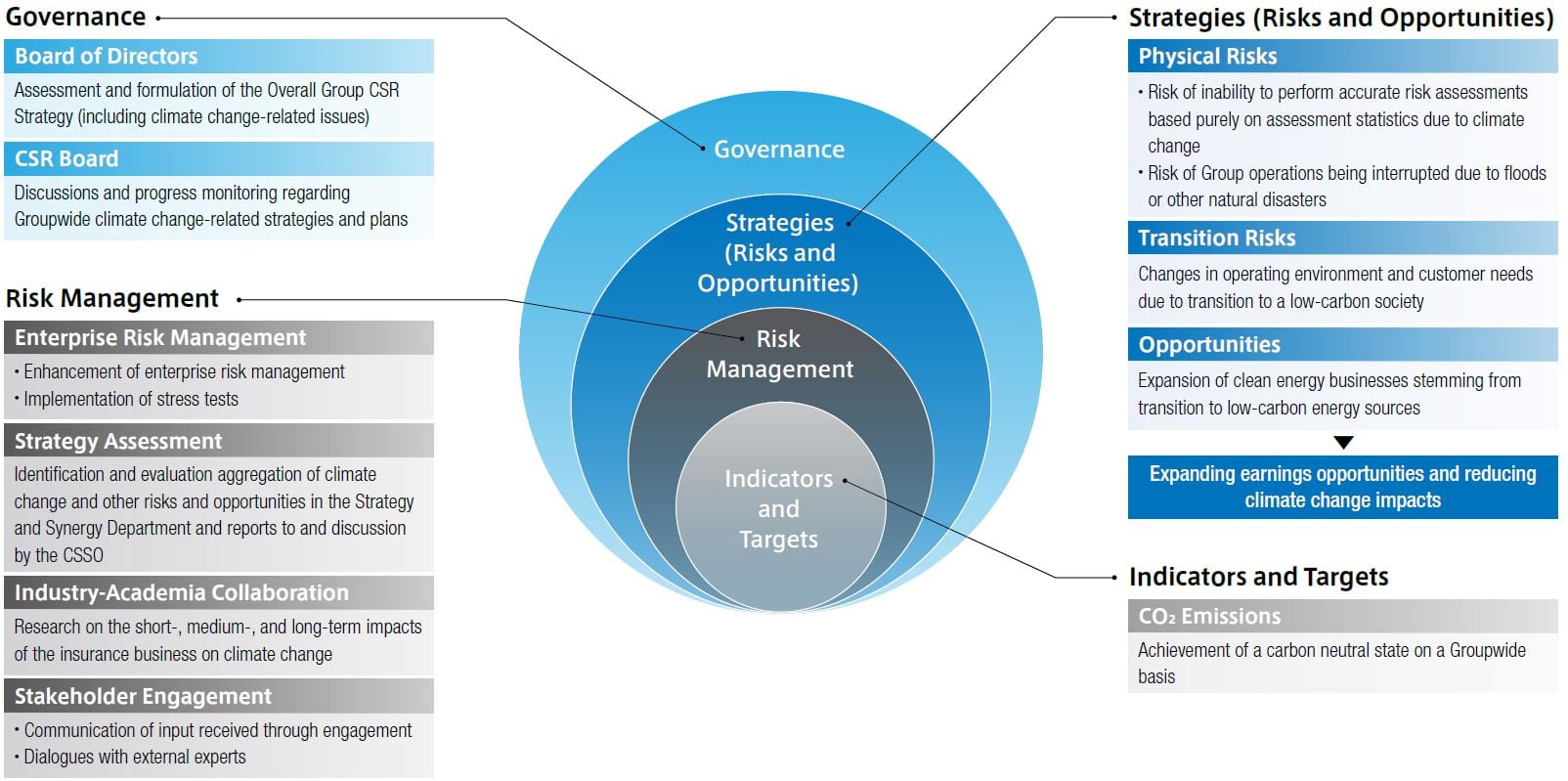 Climate-Related Governance
The Board of Directors of Tokio Marine Holdings is the decision-making body for Tokio Marine Group's climate-related action policies. It evaluates and determines the Overall Group CSR Strategy that encompasses climate-related measures, a medium-term plan and plans for each fiscal year. As regards the implementation status of climate-related measures throughout the Group, the Board also monitors matters having significance in terms of management based on the reports from a dedicated CSR promotion department (CSR Division within the Strategy and Synergy Department of Tokio Marine Holdings).
The CSR Board, comprising the CEO of Tokio Marine Holdings (Group CEO) and presidents of Group companies, is responsible for executing the climate-related strategies of the entire Group. The CSR Board holds meetings periodically to evaluate and discuss the Overall Group CSR Strategy that includes climate-related measures, a medium-term plan and plans for each fiscal year, and based on the reports from the CSR Division, monitors the implementation status of climate-related measures throughout the Group.
The Group Chief Strategy and Synergy Officer (Group CSSO) is responsible for overseeing the Business Strategy Department, in which the CSR Division has been established, as well as for handling CSR- and sustainability-related issues of the entire Group and making reports to the Group CEO. The Group CSSO and the CSR Division meet periodically to discuss the ongoing projects. The Group CSSO also monitors climate-related matters based on the reports from the CSR Division, while the CSR Division investigates and provides findings on topics for which the Group CSSO has requested clarification.
Climate-Related Strategies
Physical Risk
Climate change due to global warming is considered to possibly bring about major changes in the frequency and scale of weather disasters in the future. As such, basing analyses only on past statistical data may prevent appropriate risk assessment and significantly impact the calculation of insurance premiums and the ability to pay insurance claims in the event of a serious disaster. Occurrence of water immersion, power failure or other damage resulting from a flood or other natural disasters at any of the bases of Tokio Marine Group may disrupt the Group's business operations and cause financial impact, including response costs and lower revenues. For this reason, the Tokio Marine Research Institute and other Group companies have been assessing and calculating the impact on insurance losses under future climate conditions, using the Intergovernmental Panel on Climate Change (IPCC) Representative Concentration Pathway (RCP) scenarios. Specifically, RCP4.5 and RCP8.5 are used to simulate changes in typhoon risk, while RCP8.5 is used to simulate changes in flood risk due to increased rainfall. The results of analyses of such scenarios are referenced in managing risks through the Group-wide Enterprise Risk Management (ERM) system while considering the potential impact on insurance underwriting from more severe natural disasters arising due to climate change. In addition, we strive to make a faster, smoother response to losses after a typhoon or other wide-area disasters by strengthening our support structure in Japan, introducing electronic means to report loss internally and within each agent and taking other measures to enhance the competitiveness of our claims services.
Transition Risk
In line with the transition to a low-carbon society, enforcement of more stringent laws and regulations and rapid technological advancement may trigger changes in the Group's business environment and in customer needs, and possibly affect the way we do business and what products and services we develop and provide. However, we expect that replacement of the existing products and services with low-carbon options will occur gradually, allowing us to implement appropriate risk management and develop and provide adequate accident response services for insurance policies that have a relatively short term, including those renewed annually.
Opportunities
In the process of promoting GHG emissions reduction, a shift to "cleaner" modes of power generation may occur and further increase needs for insurance for clean energy providers, including solar, geothermal and wind power generation operators. Amid such a change, we have been conducting research to ensure appropriate risk assessment in insurance underwriting and have already developed and been providing insurance products for such clean energy providers as an effort to increase the opportunity to generate more revenues.
Offshore wind power generation that uses the force of offshore wind to generate power, in particular, has drawn much attention globally for its better generating efficiency than onshore wind and solar power generation. It is also considered a promising option in Japan as the country is surrounded by the sea and has long coastlines. In November 2018, the Diet passed the Act of Promoting Utilization of Sea Areas in Development of Power Generation Facilities Using Maritime Renewable Energy Resources for promoting the offshore wind power industry, thereby setting up a system to license operators to use designated sea areas for a certain period of time. However, in addition to substantial facility installation costs, offshore wind power generation faces many risks that vary from those encountered on land and thus requires adequate risk management. Tokio Marine Group has already been underwriting insurance for offshore wind power generation projects around the world. At the same time, the Group has accumulated know-how for analysis and assessment of the risk of natural disasters specific to Asia, including typhoons, earthquakes and tsunamis. Driving Japan's efforts in this area in terms of insurance, Tokio Marine Holdings has been sharing its know-how accumulated in past projects at international conferences and seminars and intends to play an important role in further promoting the use of offshore wind power generation.
There is also an expected rise in needs for stabilizing the lives of people in farming and other communities more vulnerable to climate change and weather disasters. As an example of our response, we have been selling Barish Bima Yojna / Mausam Bima Yojna in India, which is a weather insurance product that evaluates climate risks such as precipitation volume and temperature in all areas within the country and takes into account the impact of unseasonable climate on grain harvest yields in farming communities.
While using CO2 emissions from business activities and the CO2 fixation and reduction effect from mangrove planting, the purchase of green power and other activities as our metrics and setting out the target of achieving carbon neutral status, we are strengthening our ability to respond to the transition risk and creating additional opportunities for efficient use of resources and cost reduction.
Given these climate-related risks and opportunities surrounding Tokio Marine Group, we have specified climate change and natural disasters as issues having CSR materiality (material CSR issues) and have been making various efforts as part of our climate-related strategies. These efforts include: engaging in industry-academia collaborative research on climate change and weather disaster risk, developing and providing disaster risk-related products and services, raising environmental and disaster prevention awareness, reducing the environmental footprint in business activities and achieving carbon neutral status.
Additionally, Tokio Marine Group has been participating in the United Nations Global Compact, UNEP FI, UN-endorsed Principles for Responsible Investment (PRI) and other initiatives to collaborate with various stakeholders and contribute to the creation of a safe, secure and sustainable future. In responding to climate change and natural disasters, the Group is also striving to share the findings of its industry-academia collaborative research with society as well as to resolve disaster issues and mitigate disaster damage on a global basis. These efforts are carried out by joining international initiatives, such as the Private Sector Alliance for Disaster Resilient Societies (ARISE) led by the UN Office for Disaster Risk Reduction (UNDRR), The Geneva Association's Climate Change and Emerging Environmental Topics (CC+EET) working group and ClimateWise. With the aim of encouraging developing countries to financially prepare for increasingly severe weather disasters, we have been playing a leading role in creating an international framework for promoting disaster risk insurance through our engagement with the Insurance Development Forum (IDF) and Asia-Pacific Economic Cooperation (APEC).
Risk Management
At Tokio Marine Holdings, a dedicated CSR promotion department (CSR Division within the Company's Strategy and Synergy Department) identifies risks and opportunities, including those related to climate change, and compiles the assessment results of these risks and opportunities for drafting an Overall Group CSR Strategy. The division also holds a monthly meeting with the CSSO, who is a Vice President, to also discuss the assessment results.
Tokio Marine Group also identifies and assesses climate-related risks and opportunities by analyzing the feedback from stakeholder engagement. This stakeholder engagement initiative includes "CSR Dialogue," in which we regularly invite outside experts to share the latest knowledge on CSR with the Group's management and to engage in dialogue (exchange views and engage in discussions) about Tokio Marine Group's CSR initiatives.
Additionally, Tokio Marine Group performs management through our environmental management system, and engages in energy conservation and resource conservation activities. The head office of Tokio Marine & Nichido has adopted an environmental management system based on ISO 14001 in fiscal 1999. At Group companies in Japan and overseas, we are introducing our unique environmental management system through collaboration with Tokio Marine Holdings and Tokio Marine & Nichido. Each year, we identify and assess environmental issues, including climate-related risks, and define environmental targets.
Meanwhile, Tokio Marine Group engages in research through collaboration with The University of Tokyo, Nagoya University, Kyoto University and other organizations to look into the impact of climate change on the insurance business over the short, medium and long terms and to identify and assess climate-related risks. As an example outcome, the Group has learned that under future climate conditions (about 100 years from now), an increase in the average typhoon intensity will increase typhoon risk.
Tokio Marine Group promotes Enterprise Risk Management (ERM) that seeks to increase corporate value by integrating risk-based decisions into all aspects of business and using capital adequacy and profitability relative to risk as metrics for making management decisions. Under the ERM framework, we conduct risk management while taking into consideration various factors, including the research results such as the said change in typhoon risk under future climate conditions as well as the impact on insurance losses caused by a change in flood risk as a result of increased rainfall. Moreover, at the ERM Committee comprising top management of Group companies in and outside Japan, we identify material risks surrounding Tokio Marine Group and develop policies to respond to these risks. Material risks identified in fiscal 2018 included major wind and water disasters in Japan and major natural disasters overseas. In identifying material risks, we have adopted a system to monitor all risks, including emerging risks resulting from environmental and other changes, and comprehensively assess these risks using both quantitative factors (such as economic loss and frequency of occurrence) and qualitative factors (including business continuity and reputation). We also perform stress tests using scenarios of low frequency but high consequence major natural disasters and other extreme events.
The level of reinsurance premiums may fluctuate widely in line with increasing large-scale weather disasters due to climate change, possibly causing a sharp rise in reinsurance premiums. Tokio Marine Group strives to optimize retention and reinsurance on a Group basis. As for natural disaster risks, we designate Tokio Marine & Nichido as the Group Retention Vehicle. While a certain portion of all natural disaster risks assumed by Group companies in and outside Japan is centralized to Tokio Marine & Nichido through intra-Group reinsurance, risks that exceed the retention level deemed appropriate on a Group basis are collectively ceded* to the external reinsurance market. By this collective ceding, we leverage economies of scale to reduce ceding costs.
*

Ceding refers to an insurance company passing on a part of its responsibility to pay insurance claims to another insurance company.
Management Strategy Section, Integrated Annual Report 2018PDF
Metrics and Targets
We use CO2 emissions from business activities and the CO2 fixation and reduction effect from mangrove planting and other activities as our metrics. Our target is to achieve carbon neutral status on a Group basis annually, and we have attained this target for six consecutive years from fiscal 2013 to fiscal 2018. We will continue toward achieving this target in fiscal 2019 and onward.