Tokio Marine Group captures profits in specialty insurance unaffected by market conditions in developed countries and high growth in emerging countries as well as sustainably generates stable profits through domestic non-life business and life business.
Its composition of profits is splitted almost fifty-fifty between domestic and international businesses. Tokio Marine Group realizes a well diversified portfolio on a global basis.
Results
Realizing stable business expansion, profit growth, and high capital efficiency
Top-line


(Net premiums written + Life insurance premiums)

¥ 4,590 bn

Adjusted net income

¥ 400 bn

Adjusted ROE

10.4 %
*

Fiscal 2019 original projections

*

Adjusted net income and Adjusted ROE are our original indicators excluding the effect of various reserves specific to the Japanese insurance business and goodwill, etc.
Composition of Profits
Balanced business portfolio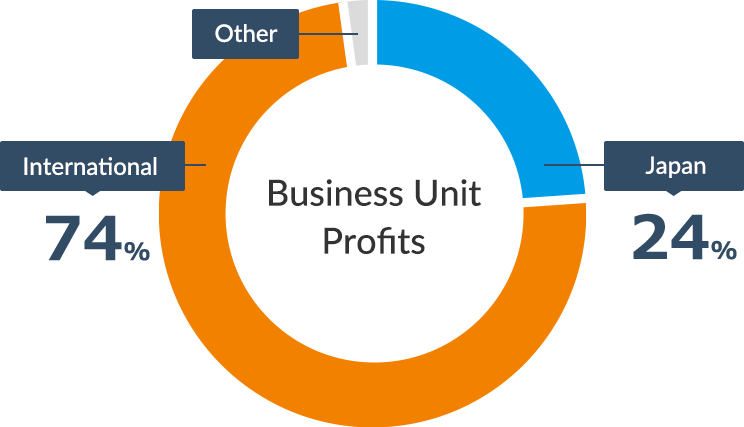 *

Fiscal 2019 original projections
Operating Presence
Network encompassing Japan and 45 countries and regions worldwide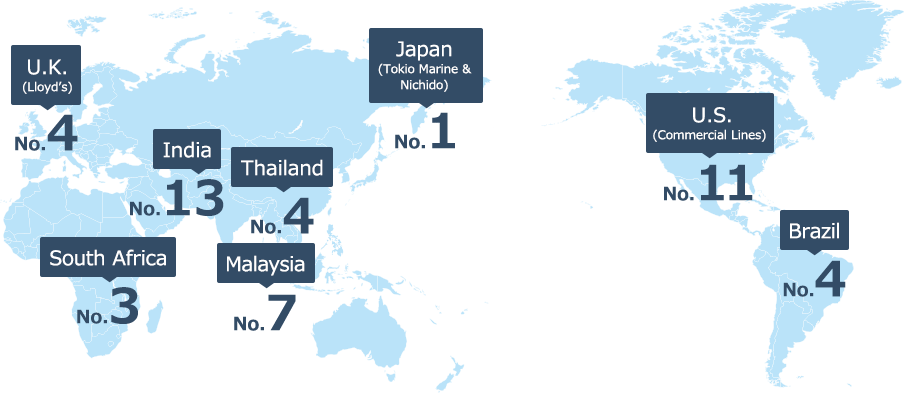 Sources:

Axco, SUSEP, FSCA, Financial Sector Conduct Authority, Lloyd's Annual Report 2018, S&P Global, and The General Insurance Association of Japan (Direct premiums written)
*

The given country based on non-life insurance premiums
Shareholder Value
Realized above-market TSR
* As of end of Sept 2019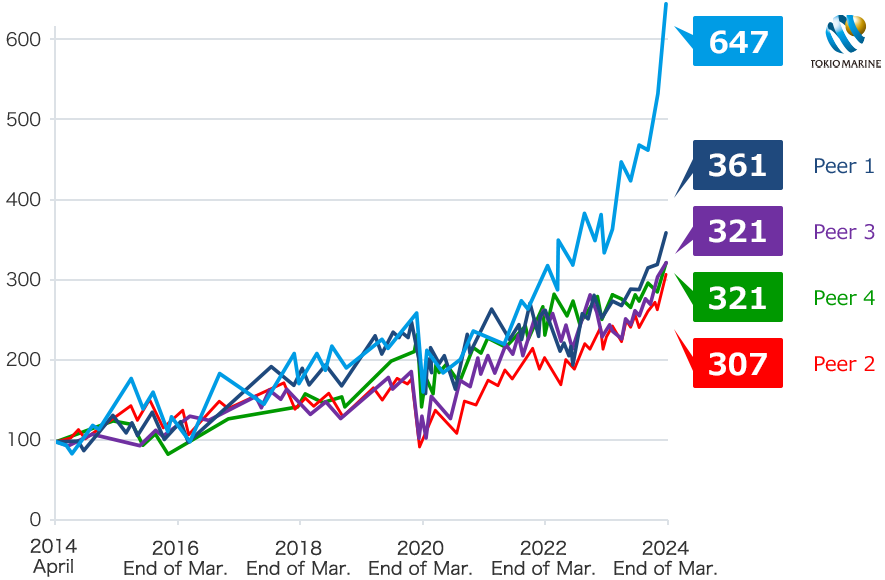 *

Total Shareholder Return (TSR): Capital return after reinvesting dividends. Stock price indexed at 100 as of April 1, 2002.

*

Peers are Allianz, AXA, Chubb and Zurich.
Financial Base
High ratings from third party ratings institutions
S&P

A+

Moody's

Aa3

A.M.Best

A++
*

Financial strength rating of Tokio Marine Nichido (as of end of March 2019)
ESG Rating
High evaluations from various global ESG rating institions
10 Consecutive Years
3 Consecutive Years
3 Consecutive Years