Tokio Marine Group captures profits in specialty insurance unaffected by market conditions in developed countries and high growth in emerging countries as well as sustainably generates stable profits through domestic non-life business and life business.
Its composition of profits is splitted almost fifty-fifty between domestic and international businesses. Tokio Marine Group realizes a well diversified portfolio on a global basis.
Results
Realizing stable business expansion, profit growth, and high capital efficiency
Top-line


(Net premiums written + Life insurance premiums)

¥ 4,690 bn

Adjusted net income

¥ 424 bn

Adjusted ROE

10.8 %
*

Fiscal 2021 original projection basis

*

Adjusted net income and Adjusted ROE are our original indicators excluding the effect of various reserves specific to the Japanese insurance business and goodwill, etc.
Composition of Profits
Balanced business portfolio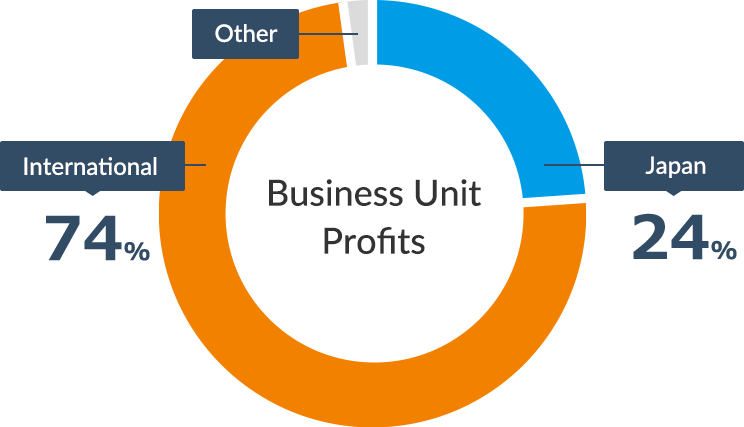 *

Fiscal 2021 original projection basis
Operating Presence
Network encompassing Japan and 46 countries and regions worldwide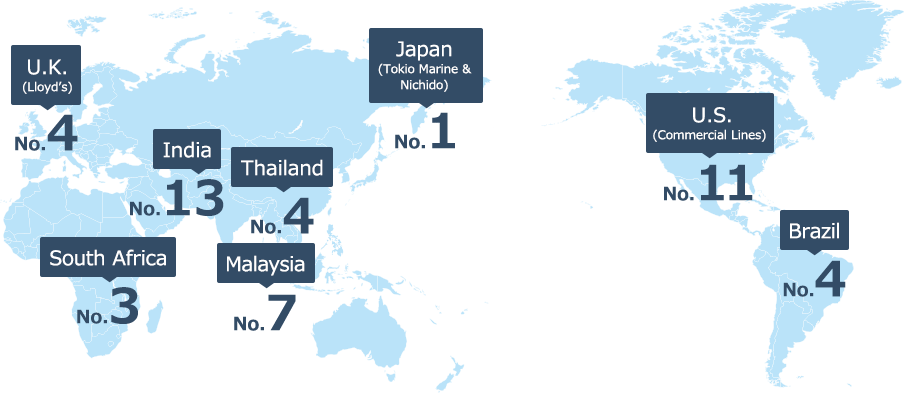 Sources:

Axco, SUSEP, FSCA, Financial Sector Conduct Authority, Lloyd's Annual Report, S&P Global, and The General Insurance Association of Japan (Direct premiums written)
*

The given country based on non-life insurance premiums
Shareholder Value
Realized above market and peers TSR
* As of end of March 2021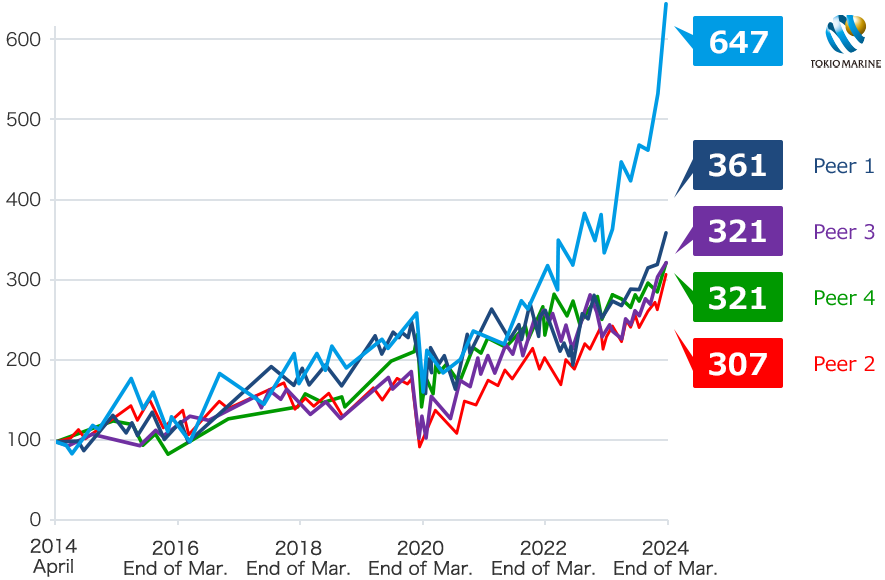 *

Total Shareholder Return (TSR): Capital return after reinvesting dividends. Stock price indexed at 100 as of April 1, 2002.

*

Peers are Allianz, AXA, Chubb and Zurich.
Financial Base
High ratings from third party ratings institutions
S&P

A+

Moody's

Aa3

A.M.Best

A++
*

Financial strength rating of Tokio Marine Nichido (as of end of March 2021)
ESG Rating
High evaluations from various global ESG rating institions
12 Consecutive Years
5 Consecutive Years
20 Consecutive
Years
(Reference) Market Environment
Profit growth in the U.S., which has the world's largest insurance market, and stable growth in Japan, which has the world's third-largest market (No. 4 in non-life insurance, and No. 3 in life insurance), are the key.
The global insurance market in 2017 was worth $4,891 billion, with the U.S. in first place for both life and non-life insurance. Following China, Japan was in third place with the fourth largest non-life insurance and the third largest life insurance markets.
Ten Largest Insurance Markets in Direct Premiums Written for Life Insurance and Non-life Insurance in 2017*1
(Unit: Millions of USD)
Ranking
Country
Life premiums
Non-life premiums*2
Total premiums
Amount
Change against 2016 (%)
Share of the global total (%)
1
United States*3, 4
546,800
830,315
1,377,114
2.0
28.15
2
China*5
317,570
223,876
541,446
16.2
11.07
3
Japan*4, 6
307,232
114,818
422,050
-6.5
8.63
4
United Kingdom*4
189,833
93,499
283,331
-2.6
5.79
5
France*7
153,520
88,083
241,603
1.8
4.94
6
Germany*7, 8
96,973
126,005
222,978
3.8
4.56
7
South Korea*4, 6
102,839
78,378
181,218
2.4
3.70
8
Italy*4
113,947
41,562
155,509
-2.6
3.18
9
Canada*4, 9
51,592
67,927
119,520
5.5
2.44
10
Taiwan
98,602
18,873
117,474
15.8
2.40
Source:

Swiss Re Institute, sigma No. 3, 2018
*1

Before reinsurance

*2

Includes personal accident insurance and health insurance

*3

Non-life premiums include state funds. Life insurance premiums include the estimated value of group annuities premiums

*4

Estimated figures

*5

Provisional figures

*6

Fiscal year between April 1, 2017 and March 31, 2018

*7

Figure for non-life premiums is provisional

*8

Figure for life premiums is an estimate

*9

Net premiums are shown for life premium amount
Life and Non-Life Insurance Premiums in 2017, and Penetration through 1960–2017 (Ratio of Insurance Premiums to GDP)
Region Premium (Share)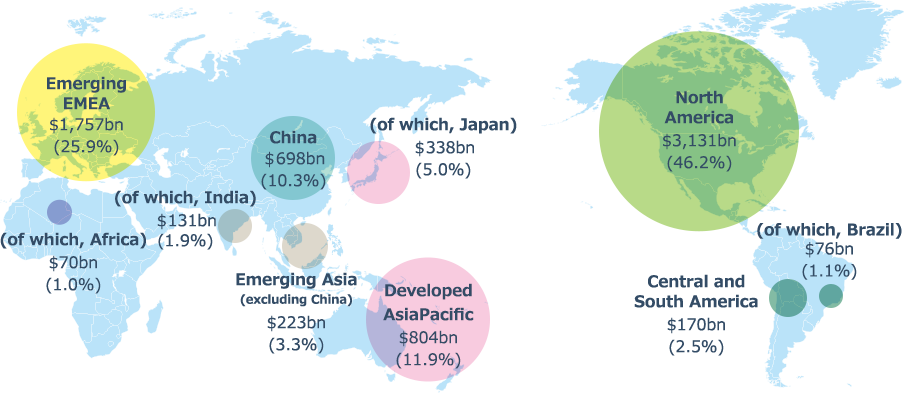 *

Circle size gives a visual idea of the size of premiums
Developed Europe, Middle East, and Africa (EMEA)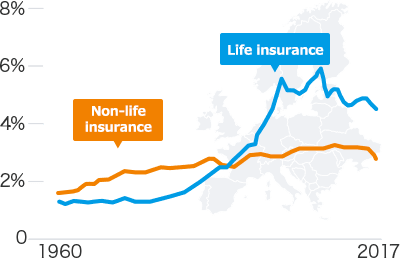 Emerging EMEA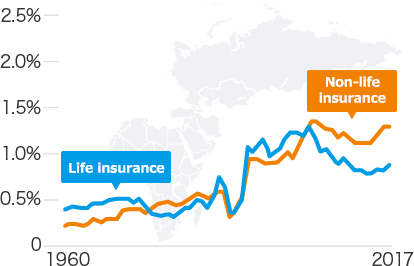 Emerging Asia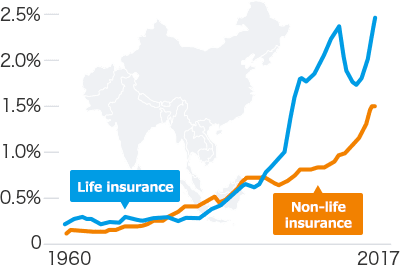 Developed Asia-Pacific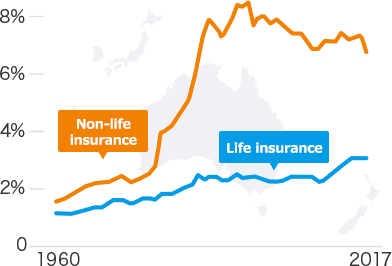 North America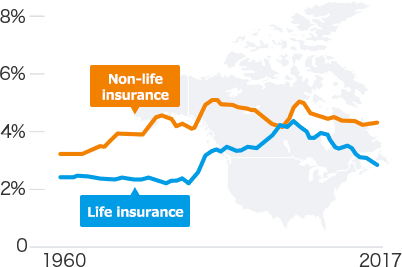 Central and South America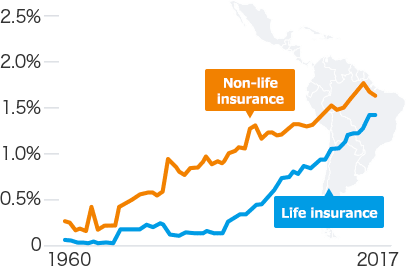 Source:

Swiss Re Institute, sigma No. 3, 2018
In addition to stable growth in developed markets, capturing booming emerging markets is the key.
Non-life premiums grow in tandem with economic growth in developed markets. However, in emerging markets, which have low levels of insurance penetration and upward trends in populations, insurance premiums show growth that exceeds economic growth. Note that increases in life premiums are greatly impacted by such factors as interest rates, market regulations, and taxation systems, so they are not necessary linked to economic growth.
Growth in Non-life and Life Premiums, and Growth in Real GDP (Seven-Year Moving Average)
Developed Markets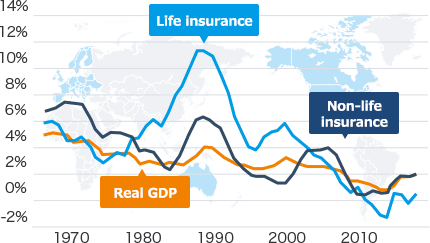 Emerging Markets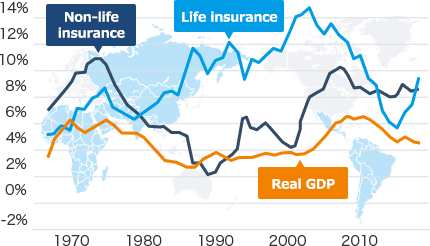 Source:

Swiss Re Institute, sigma No. 3, 2018