Tokio Marine Group Corporate Philosophy
With customer trust as the foundation for all its activities, Tokio Marine Group continually strives to raise corporate value.
Through the provision of the highest quality products and services, Tokio Marine Group aims to deliver safety and security to all our customers.
By developing sound, profitable and growing businesses throughout the world, Tokio Marine Group will fulfill its mandate to shareholders.
Tokio Marine Group will continue to build an open and dynamic corporate culture that enables each and every employee to demonstrate his or her creative potential.
Acting as a good corporate citizen through fair and responsible management, Tokio Marine Group will broadly contribute to the development of society.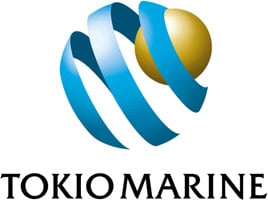 The dynamic spiral denotes futuristic creativity and growth potential and combines with the supporting image that gently embraces the Earth and our customers. This mark is a symbolic expression of the desire and determination to develop and enjoy prosperity with customers on a global scale.
The sphere is colored gold, expressing the precious nature of people and the Earth, while the spiral is blue expressing an image of intelligence, smartness, familiarity and future.
Information