Our goal for Tokio Marine Group is to become a global insurance group delivering attractive value to all our stakeholders. We aim to realize highlevel shareholder return by setting the quantitative targets of adjusted net income of over ¥500.0 billion and adjusted ROE of around 12%. As Group CFO, I support the achievement of these targets, primarily through capital policy.
To put our capital strategy in simple terms, we generate capital through the organic growth of each business in Japan and overseas, as well as regular strategic portfolio assessments. Capital raised is allocated for business investment, such as M&A, but in situations where there are no promising investments, we use it to provide shareholder return. We have been continuously raising corporate value by repeating this cycle.
Our Goal and Capital Strategy Cycle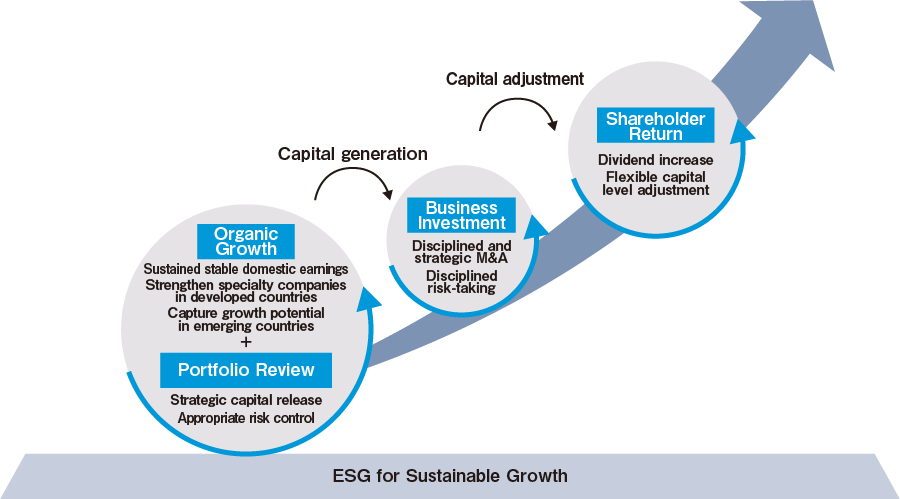 Organic Growth and Portfolio Review
Organic growth is the base for the growth of the entire Group.
With regards to our portfolio, we use the market in Japan, which consistently generates stable profits, as our base.
We then incorporate the growth of specialty insurance in developed countries, which is resistant to market fluctuations, and the high growth potential of emerging countries such as Brazil and Asian countries. Our Group companies also exercise their expertise and diversity to solve social issues, which wins us overwhelming support from customers and society, and in turn produces high levels of profitability and growth in Japan and overseas. Specifically, over the last decade or so, we have realized profit growth*1 demonstrated by a CAGR of 6.1% in Japan and 11.6% overseas.
*1

Average annual growth of business unit profits from fiscal 2010 to 2019, with the impact of natural disasters normalized to an average annual level
My role is to support the growth of each business by getting deeply involved in operations, such as the execution of the mid-term business plan through capital allocation and other means. I am constantly meeting with the top management of each business to discuss whether they are responding to changes in the business environment, implementing appropriate strategies, achieving results as planned, and whether their strategy or plan needs to be reviewed. When meeting with the management of the international insurance business, we discuss themes such as the profit target for fiscal 2020, the main challenges in each country, and KPIs for its next mid-term business plan. In these discussions, I communicate any issues and my expectations related to the international insurance business I have identified from a CFO perspective.
As an insurance company, we are subject to underwriting risk in the event of automobile accidents, fires, wind and flood-related disasters, and earthquakes, as well as asset management risk related to the management of collected premiums through equity, interest, credit, and other means. Correctly taking the right risks will lead to higher earnings, but it is important to practice proper risk control. Subsequently, we have made enterprise risk management (ERM) a fundamental part of Group management. ERM takes into consideration our risk appetite, to what extent we undertake the risks, whether return on risk is sufficient, and whether risk is appropriately diversified. We have also established an ERM Committee for discussing ERM strategy. The committee, which I chair, meets about six times a year and comprises senior management, including the CEO, CRO (risk management), CIO (investment), and CRSO (retention strategy), as well as the top management of each business. Our meetings cover issues such as individual risk strategies, our risk appetite, and how to make our ERM more sophisticated.
Based on these discussions, the Board of Directors formulates a capital allocation plan with the aim of realizing an optimal risk portfolio from a group-wide perspective. We review the results of these allocations so that we can implement improvements.
We always adopt a forward-looking approach to checking the growth potential and profitability of our businesses, and taking necessary measures when needed. While there are businesses that need capital increases for future growth, there are also businesses that need to be sold. This was demonstrated by the divestment of our Tokio Millennium Re AG (TMR), overseas reinsurance subsidiaries in fiscal 2018 and by the decision regarding the divestment of our Egyptian life subsidiary in fiscal 2019. Looking at TMR in particular, while the business had its origin in the full-scale development of our international insurance business, the decision to divest was taken from a current perspective. TMR was established to diversify risk globally through reinsurance business and learn about the management of overseas companies. Now, we have been able to diversify risk through our primary business thanks to the large-scale acquisitions of TMK, PHLY, DFG, and TMHCC. Additionally, while TMR itself had a good track record and grew into a company that was realizing profits of around ¥10 billion, the structure of the reinsurance market was being softened*2 by an influx of third-party capital and this showed no sign of changing in the medium- to long-term. In such an environment, unless a reinsurance business is sufficiently large, it is unlikely to survive. In consideration of these conditions, we judged that TMR had fulfilled its initial purpose, and therefore made the decision to divest.
*2

In a softening market, premium rates fall, and in a hardening market, they rise.
Enterprise Risk Management Cycle

Business Investment
As an insurance company, it is important to keep commitments with our customers by strengthening our business platform so that we carry out our core business under any circumstances. We work to achieve this through risk diversification and further business growth, and any capital generated is used for M&A and to take additional risks. Our main strategy is to diversify risk both geographically and by business.
Also, for Tokio Marine Group, M&A is not a goal but a method. Our policy is that if there is a "Good company" that is compatible with our goals, then we will carefully consider M&A. We always reference our M&A strategy map when considering acquisition candidates. Using this method, for example, we acquired the PURE Group and decided to establish a joint venture company in Brazil in fiscal 2019. While this kind of M&A action is executed by each business, I review, as the Entry & Exit Office manager, whether proposed project plans are appropriate and have strategic significance, and then judge whether to go ahead or stop a deal.
While it is generally difficult to realize a successful M&A, each company we have acquired has gone on to achieve growth that exceeds market growth rate and demonstrates synergies on a group-wide basis. This is made possible through our continuous update of our acquisition longlist and shortlist, where we tirelessly whittle down potential candidates before taking action based on strict investment discipline. We also discuss matters through the International Executive Committee, which includes top management from our international companies, and other committees. Despite it being rare for companies to use actual figures to show the value of synergies, it is important to show our stakeholders in the capital markets the results in a quantitative way. This is especially true when considering the significant amount of capital we spend on M&A.
Recently we have established a global taskforce to devise a strategy in response to COVID-19, as well as a strategy after COVID-19, such as how we approach market hardening*2. If this kind of market hardening manifests, we will leverage our risk-selection expertise to take good risks and increase returns.
An Optimal Capital Structure
In fiscal 2019, our capital structure was reorganized into one that is more conscious of capital cost by issuing hybrid bonds and other methods.
Hybrid bonds are useful in maintaining financial soundness and low cost in comparison with shareholders' equity. We had already considered it as an option to improve our corporate value, and, in light of these benefits, we decided to issue the bonds for the first time in coordination with our acquisition of the PURE Group. Additionally, the use of hybrid bonds enables agile capital procurement, leading to more flexibility regarding financial matters. However, we think it is financially sound to stay disciplined and strike a balance between shareholder's equity and hybrid bonds. Our goal is to raise capital efficiency through the sustainable growth of our insurance business and risk management, so we do not merely recapitalize to raise ROE. Our use of hybrid bonds is part of a financial strategy that will enable us to capture promising acquisition opportunities in the future. We believe that keeping our financial leverage low will put us in a more advantageous position financially.
A Flexible Capital Strategy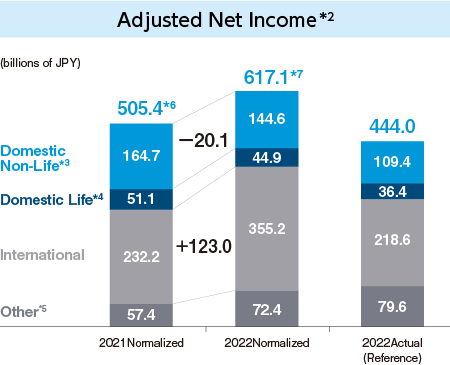 Shareholder Return
Dividends are our primary means of shareholder return, and we aim to sustainably increase dividends in line with profit growth. Based on this policy, we plan to raise dividends in fiscal 2020 for the ninth consecutive year. Our current payout ratio is 40%*3, but it will be raised gradually to 50%—the level of our peers—to move us toward the future vision of the Group. Therefore, we will adjust capital levels through the agile implementation of share repurchases and other means, based on comprehensive consideration of the economic solvency ratio (ESR), market conditions, M&A, and additional risk-taking opportunities. ESR measures capital adequacy and it is an indicator commonly used by insurance companies. Even so, we use stricter standards than most to ensure disciplined capital management. Since the current ESR is within our target range (150–210%), we will flexibly consider further business investment, additional risk taking, and shareholder return.
*3

Based on a five-year average for adjusted net income, but adjusted net income for fiscal 2020 does not include the impacts of COVID-19
As a result of this approach, our ROE has been trending above a capital cost of 7%, which is calculated based on the capital asset pricing model (CAPM)*4, with low volatility. Our ROE level and its stability are approaching the level of our global peers. Even though recent natural disasters and other events are having an impact, we will continue to further diversify risk to keep ROE fluctuations under control and raise ROE levels.
*4

A method for calculating return that can be expected by investors. It is calculated as risk-free rate + beta (riskiness of an individual asset compared to the overall market) × market risk premium.
Increasing Shareholder Return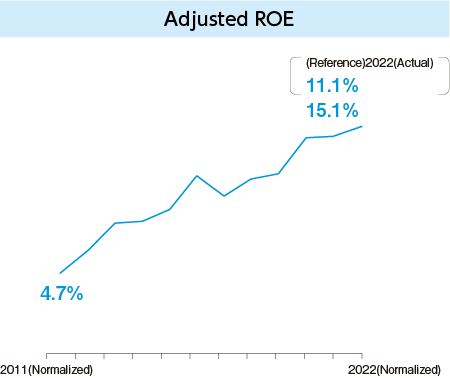 Improving ROE